Once a week (usually a Sunday) I love spending a little bit more time on my skincare, and use products to really pamper my skin (usually accompanied by a naughty chocolate snack and a chick flick). I save my favourite bits and bobs to use on this day so my skin feels soft, hydrated and smooth ready for the week ahead - does anybody else think like this?
I start by gently cleansing my skin using the
Emma Hardie Moringa Cleansing Balm.
This is probably one of those products you have heard everybody and their mum talking about, so I'm going to briefly say that I use this just once or twice a week as a luxury balm, and spend a little more time massaging it into my face - it feels amazing after a long days work. I then pop on the
MyChelle Fruit Fiesta Peel.
I use this as a dual face mask/exfoliating product, as it has glycolic acid and fruit enzymes which moisturise
and
exfoliate the skin without irritation, whilst somehow leaving my skin looking rejuvenated and more awake. This is one of those products that I have found instantly makes a difference, and from using it once/twice a week I have also found a difference overtime - brilliant if you don't like using a manual, scrubby exfoliator.
I then add a little bit of a refreshing spritz to my skin using the
Mario Badescu Facial Spray.
I can't say this does anything particularly amazing to my skin, it's just one of those lovely products that makes you feel a little bit more pampered (do we need a better excuse girls)?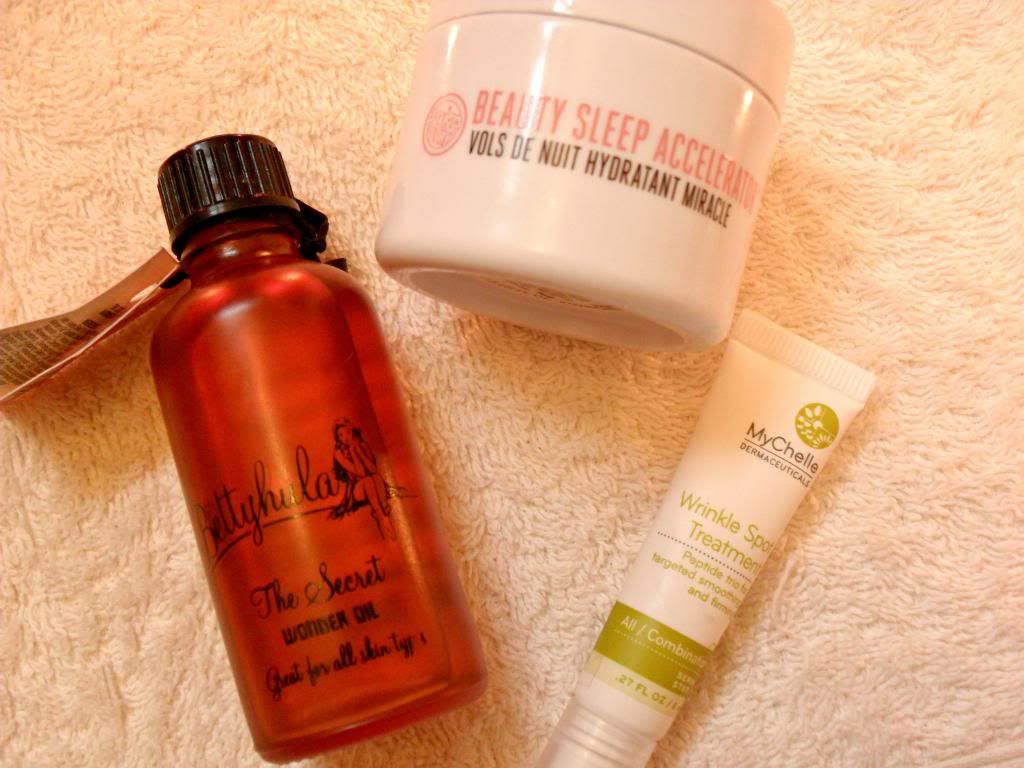 I then use another product from MyChelle, being their
Wrinkle Spot Treatment
. Now this doesn't have anything to do with 'spots' as it were and I think the name can be a little bit misleading (or maybe it's just me), but it's just a 'spot treatment' for wrinkles. Although MyChelle do have eye creams/products, I find this is lovely to use around the outer part of my eyes (crow's feet area), and although it sinks in quickly it's really hydrating and just makes my skin look a lot more refreshed! My facial serum/oil of choice at the minute (and the one I have been using for the past couple of years) is the
Betty Hula 'The Secret' Wonder Oil.
This works brilliantly of an evening, especially if you have dry skin. It's super hydrating, smoothing and my skin really feels like it 'quenches' it up. This one I do actually use every evening, but I still love it as a pamper essential.
Next, the moisturiser. I have a full
review here
, but I will still briefly mention the
Soap & Glory Beauty Sleep Accelerator
. This is one of those 'ahhh' products, as it literally feels like your applying a delicious-smelling layer of moisture (especially when used on top of the serum). Definitely pick this up on your next 3for2 shop at Boots, it's become one of my favourite skincare products.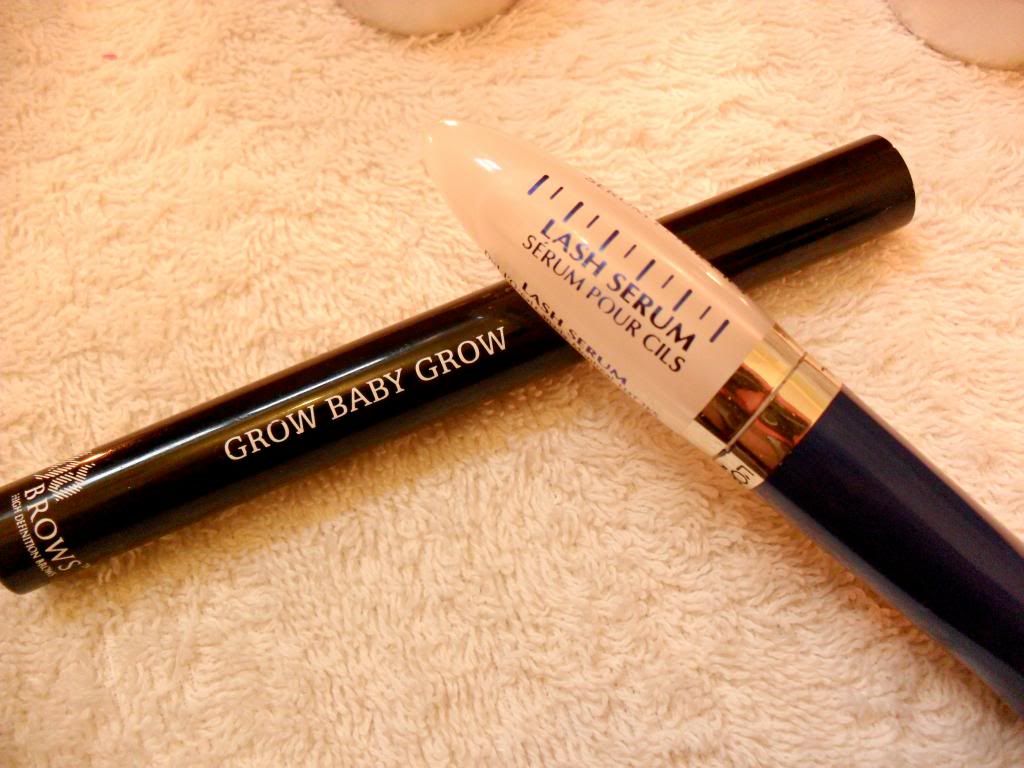 Finally, the last two products I use are for my lashes. I think I'm one of these people who will never be happy with the eyelashes given to them, but I try and use products which will nourish and hopefully promote growth regardless. The first is from HD Brows (and yes, it can be used on either the brows or eyelashes) called the
Grow Baby Grow.
For some reason I can't find this online anywhere and I think they may have replaced it with the Lash Growth Serum they have - I have had this one a while! You basically just apply this to your lash line and it's meant to promote growth, thickness and generally just nourish your lashes from the root. I also coat my lashes with the
L'Oreal Lash Serum
which claims to do pretty much the same thing (the difference is you apply this one like a mascara).
What are your favourite pamper products?