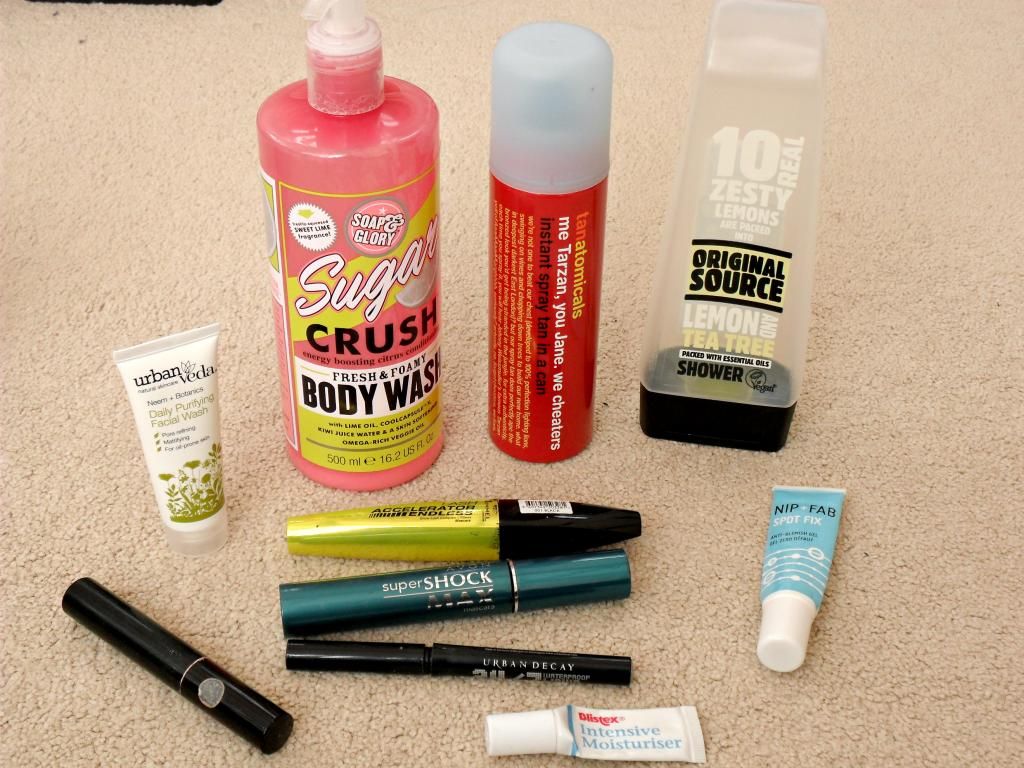 Over the past couple of weeks I seem to have used up quite a few beauty bits which I thought I'd share with you. I love reading
'empties'
posts as you get more of a full review as the person has used up the whole product, rather than just reading about somebody's first impressions. I'll get started with some body products..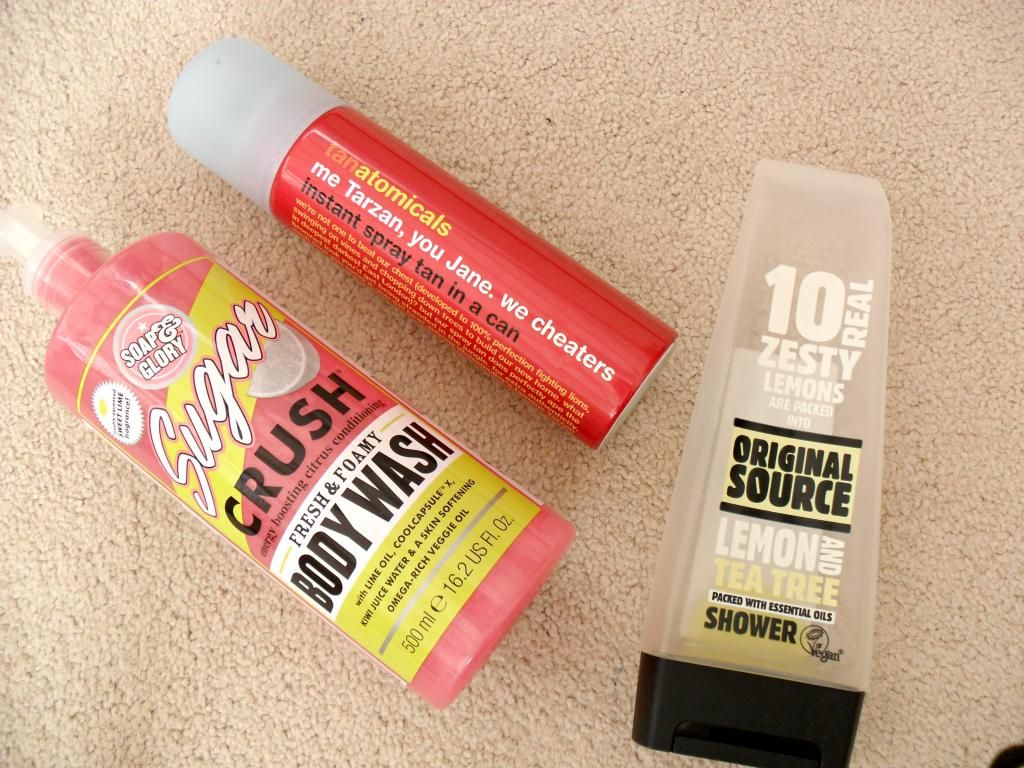 I finally finished up the
Soap & Glory Sugar Crush Body Wash (£6.50).
I've had this since Christmas when I bought their big set of gifts (they bring one out every year) and although I loved the scent to start off with, because it's such a big bottle and took ages to use - near the end I did get a little sick of it. However, I did find the handy pump really useful in the shower, and I would definitely buy a S&G body wash again (they're one of my faves). I also used up another one of my
Tanatomicals Instant Spray Tan in a Can (£6.99).
I've talked about this before and it's my absolute favourite fake tan. It's a spray (obviously) which you don't really have to rub or blend in, so it dispenses a nice even application which isn't patchy - and so easy to apply! The colour is also more of a reddish tan which I think looks so much more natural, and actually looks like I've just been on holiday. It also doesn't go patchy when it fades and it lasts around 4-5 days looking strong. The only downfall with this one is that you only really get 2-3 full body applications per can, so this stuff does run out quite quickly
(here's a picture of me wearing it)
.
The final body product is the
Original Source Lemon & Tea Tree Shower Gel (£2.29).
These things smell AMAZING and they're so cheap! I've also used up a Lime one which was equally as delicious-smelling. These will always have a place in my bathroom, that's for sure!
Now onto a couple of facial skincare products. I received a sample of the
Urban Veda Daily Purifying Facial Wash (£7.99)
in a beauty box and used was quite surprised at how much I enjoyed it. I do have blemish-prone skin but my skin can be very dry, and so those blemishes are sometimes hard to treat. This product didn't dry out my skin too much (although be careful if you do have sensitive skin) and it kept my blemishes at bay. It also smelt lovely, and I would purchase the full size of this if my skin was playing up again. The
Nip & Fab Anti-Blemish Gel (£9.95)
is something that I rarely used but when I had that pesky spot which just wouldn't budge, I always cracked this out to work its wonders. I always find it hard to tell if an anti-spot product really works, or whether it goes away by itself, but I was always pleased with the results and carried on using this - so it must have done something?
The last product is an all time favourite and something I'm sure a lot of people have tried already -
Blistex Intensive Moisturiser (£2.63).
This is one of the only products that leave my lips feeling hydrated all day and when they're looking really bad (dry, flakey etc) this stuff is amazing! Buy some!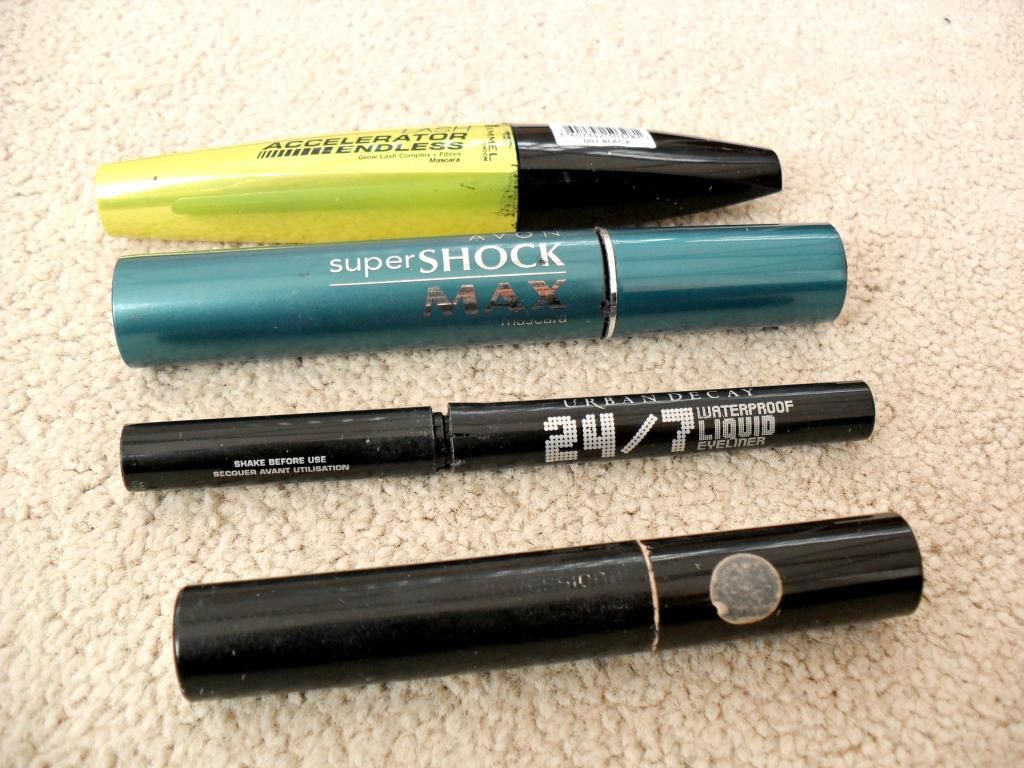 Finally, I have a couple of products for the eyes which I have used up. I'll start with the two mascaras -
Rimmel's Lash Accelerator Endless (£7.99)
&
Avon's Supershock Max (£10.00)
, both of which I love and which are repurchases. The Lash Accelerator Endless is more for lengthening and definition, and it has quite a thin brush which is really effective for doing so (especially lengthening). The Avon one on the other hand is the opposite and is amazing at building volume (and has a wand similiar to the Maxfactor False Lash Effect). Both brilliant mascaras, it just depends on the qualities you're looking for.
One of my favourite eyeliners which sadly ran out was the
Urban Decay 24/7 Waterproof Liquid Eyeliner (£14.00).
If you like your eyeliner quite thin this is perfect for you. Even though you can build it up for a thicker look, the thin tip on this just makes winged eyeliner so easy and the colour is intense black. If you have watery eyes this is something in particular that you might like to try out, as it really does last all day.
The very last product is the
MUA Eye Primer (£2.50).
Athough MUA have no changed the packaging (and the name slightly) this is the most affordable eye primer on the highstreet which is accessible and WORKS. I definitely won't be paying big bucks for more expensive ones again.