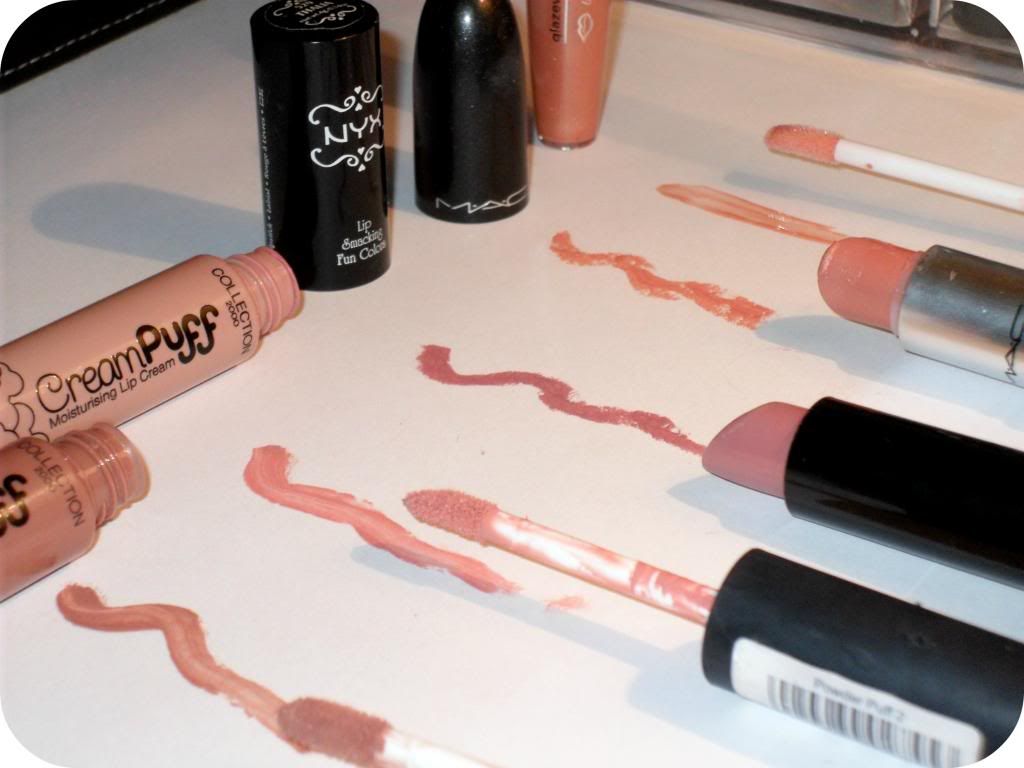 I am forever searching for that perfect nude shade for 'everyday' wear. After years of looking for the rights ones I have come to the conclusion that the peachy or more 'orange' toned shades suite my skin tone much better, and I thought I would share with you a few products I have found along the way.

Collection Cream Puff in Angel Delight, Collection Cream Puff in Powder Puff & Nyx Lipstick in Thalia
Number one which is Angel Delight is a matte-finish lip cream, but feels light and applies smoothly to the lips. The shade is the deepest nude in the collection and I find this looks lovely with neutral eye-makeup, with the focus on a brighter cheek colour. Powder Puff (Number 2) is the lightest shade in the collection, and again has a smooth finish and dries matte. I can just about get away with this shade without it washing me out, and its perfect for those days where you really cant be bothered with colour. Thalia (Number 3) is a much deeper nude shade, which I normally top off with a light pink lipgloss. It a dream to apply and I definitely want to try more colours from the range.
Mac Cremesheen Lipstick in Shy Girl & Avon Glazewear Shine Lipgloss in Nude
My favourite nude lipstick that I have found so far is Shy Girl from Mac. The glossy cremesheen finish just makes the shade so wearable and easy to touch up throughout the day. Its the perfect shade because of its 'orange' undertone, and its been my most used everyday lipstick. I'm not normally a lipgloss girl and I much prefer lipsticks, however Nude from Avon is a gorgeous colour to apply over the top of pink lipstick shades, or on its own when I feel my skin is looking a little bit dull.
What is your favourite nude lipstick/gloss?